About Us…
Lotus Bend is a 7- acre oasis just 25 minutes south of the center of Austin, Texas that provides a restorative environment that supports the spirit, mind and body by providing recreational programs, curative workshops, and a place to reconnect to nature's gifts.
The center main space is 24×24, a total of a cozy 480sqft. The connected entry space and the kitchen serving area provide 300 more square feet. Adjoining the main space by 8 foot french doors there is the Blue Lotus annex space with sitting loft. In addition, there is a second available spill-over room of another 250+ feet. The inside of this converted cabin area is comfortably spacious…
Lotus Bend is a group of practitioners, friends, and family whose belief is that as we expand the heart, mind and spirit, we unlock our inner potential which opens the door to creating beauty, fostering change, and supporting peaceful and mutual coexistence.
Lotus Bend is a sanctuary, a sacred place, a place of safety for healing, discovery, reconnection, recreation and reaching out through inward reflection, meditation, ritual, rest, play, reconciliation and communion.
Lotus Bend is a wish, a promise to plant the seeds of awareness, wisdom, stewardship, and action to create a more inclusive, just and compassionate society for all.
Our emblem the lotus flower reminds us that we emerge from the primordial clay through the waters of experience and blossom into the bright sunshine of enlightenment, rising high above …but for a brief period.
Why Lotus Bend?
FACILITIES
Our main lodge and meeting room can accommodate up to 35 people with two separate break- out rooms, as well as kitchen, and ample outdoor decking, hiking paths, gardens, fire pit, hot tub, diverse wildlife, beautiful encampment areas all offer a relaxed and restorative experience for you or your small group.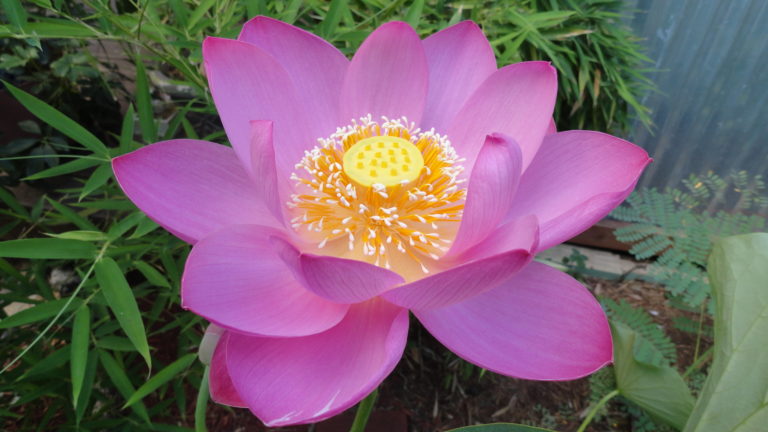 The Lotus
The color of the lotus has an important bearing on the symbolism associated with it:
White Lotus 

(Skt. 

pundarika

; Tib. 

pad ma dkar po

): This represents the state of spiritual perfection and total mental purity (bodhi). It is associated with the 

White Tara

 and proclaims her perfect nature, a quality which is reinforced by the color of her body.
Pink Lotus

 (Skt. 

padma

; Tib. 

pad ma dmar po

): This is the supreme lotus, generally reserved for the highest deity. Thus naturally it is associated with the Great Buddha himself.
Red Lotus

 (Skt. 

kamala

; Tib: 

pad ma chu skyes

): This signifies the original nature and purity of the heart (hrdya). It is the lotus of love, compassion, passion and all other qualities of the heart. It is the flower of Avalokiteshvara, the bodhisattva of compassion.
Blue Lotus

 (Skt. 

utpala

; Tib. 

ut pa la

): This is a symbol of the victory of the spirit over the senses, and signifies the wisdom of knowledge. Not surprisingly, it is the preferred flower of Manjushri, the bodhisattva of wisdom.